Latest News
14th May 2020
We are still experiencing challenges in both the availability and cost of PPE as an example of this we are being quoted cost prices for Nitrile gloves that are between 5-7 times more expensive than we were paying pre the Pandemic with a similar situation happening with Vinyl gloves, as of 12th May the following is an update of the PPE
Vinyl Gloves
We are concentrating on Clear powder free and Blue Powder Free and we have on order 144,000 boxes x 100 with deliveries due during July.
Nitrile Gloves
These are currently proving harder to source we currently have 26,000 boxes of 100 on order but we are not expecting to receive all of these at the same time so we are continuing to try to source more at a reasonable cost.
Aprons
We currently have over 26,000 packs on order which are a mixture of 100 and 200 per pack some are due in this month with a larger amount due in June.
Face Masks
We currently have plenty of 3ply face masks in stock, types IIR and FFP2.
Hand Sanitiser & Wipes
We have plenty of 100ml hand sanitiser in stock hand and surface disinfectant wipes are however still causing an issue but we have on order and are just awaiting a manufacturing date.
15th April 2020
Vinyl Gloves Update - Air Freighted Gloves Arrival Imminent
As you will all be aware there is currently a global shortage of PPE with Aprons and Gloves, our normal suppliers are all out of stock of the various types of gloves and are awaiting news as to when their next shipments will be arriving. We also have one regular supplier whose entire stock and future orders has been requisitioned by the government and they are not taking any other orders at present and cannot tell us when they will be in a position to do so.
With regards to Vinyl gloves we have a shipment on order coming via sea freight but it will probably be another 6-8 weeks before it arrives, to keep us going we have secured a container of Clear Vinyl Powder Free Gloves in all sizes, that have been air freighted in. The downside of this is because of the high cost of airfreight we have had to pass on the extra carriage cost which means they are more expensive than our regular stock lines. However the price difference is purely to cover the extra carriage costs, Instock have no intention of profiteering from higher demand of products, we have simply taken the step to ensure continuity of supply to our valued customers. The alternative product code are XDS5500 Small, XDS5501 Medium, XDS5502 Large and XDS5503 XLarge. These will become available week commencing 20th April.
7th April 2020
Disposable Gloves & PPE | Coronavirus Update
Instock has faced an unprecedented level of demand for Disposable Gloves over the last few weeks, many times above our normal stock levels.

The current situation
The global spread of the coronavirus has led to an increase in the demand for personal protective equipment (PPE) and consequently, shortages. While demand has more than doubled as a result of the virus, various other factors are contributing to a global shortage:

Malaysia
Malaysia produces approximately 65% of the worldwide supply of nitrile and latex exam gloves. On March 18, Malaysia announced a Movement Control Order (MCO) to help mitigate the spread of the virus locally. This country-wide lock-down has significantly and rapidly reduced production to below 50% of normal levels. Supply is expected to remain well below normal levels for the mid-term due to shortages of workers, packaging materials and other raw materials. These same factors have also contributed to increased operating costs and significant price rises (see further below).

China
China produces approximately 10% of the global supply of nitrile and latex exam gloves. The beginning of the coronavirus outbreak coincided with the Chinese New Year when many factories were closed, and the usual factory shutdown was extended owing to the virus. While most Chinese factories are now resuming production, they are still fulfilling weeks of backorders.

Thailand
More recently, Thailand, which produces approximately 18% of the global supply of nitrile and latex exam gloves, announced a month-long state of emergency. This is also likely to have a negative short-term impact on supplies.

To add to the problems one of the main suppliers that we purchase from has had all of their stock of Nitrile gloves requisitioned by the Government and they cannot at present give us any indication of when we will receive another delivery from them, the codes concerned are:
DSH276A, DSH277A and DSH360A

We have four regular supply routes that we purchase from, none of which currently have any stock available, the best information that we have at present is that we will receive another delivery in 3 to 4 weeks but at present we do not exactly how many we will receive.

We are contacting other supply routes and will continue to do our best to get more supplies in. In the meantime we have had to allocate stock to keep as many customers going as possible so apologies if you have not received your full order but I am sure you can appreciate why.

The other issue is prices, we have already received double digit percentage increases and have been warned of more to come in the future, I am sure that part of the reason for these increases is simple supply and demand economics but we have listed below some of the other reasons we have been informed of:

Why have prices increased
The additional production constraints have resulted in significant additional manufacturing costs. As always, we believe that being transparent with our partners is vital and we wish to explain the individual cost factors to you in detail:
Masks

: Wearing a protective mask is now an official required for all production staff to reduce the risks of infection. Each employee receives two protective masks per shift. This means the distribution of thousands of masks per day. The price for masks has increased twenty fold since the start of the pandemic.

Spread of Infection

: Additional costs are now incurred through further measures such as taking staff members temperature at regular intervals, the requirement for frequent hand disinfection as well as frequent disinfection of all factory surfaces and plant flooring.

Accommodation

: Further accommodation has been rented for plant workers suspected of carrying the Covid-19 virus and who therefore have to be quarantined.

Shortage of Workers

: Many of the local plant employees have understandably taken leave, which has added to escalating the current staff shortage.

Restrictions on Suppliers

: A great number of sub-suppliers such as printers, chemical vendors and transport businesses have either closed or are working with a greatly reduced workforce.

Exchange rate

: the gloves are paid for in US dollars and sterling has fallen 8% against the dollar in recent times
We have no choice but to pass on the increases that we have received but I can assure you that we are not profiteering on the back of these difficult times, if we want any stock at all we have no choice but to pay the new prices.

We fully appreciate your business and we will do everything we can to support you through these difficult times, but we do also have to be honest and share with you the issues we are facing.
NEW CONTRACT
Instock along with its specialist sister company, Pride Commercial Interiors have clinched a £3m high profile restaurant refurbishment contract in Edinburgh for Tony Crolla & his Vittoria Group.
They will occupy the former Khushi's Indian restaurant in Victoria Street which has been vacant since it was destroyed by a blaze in 2008.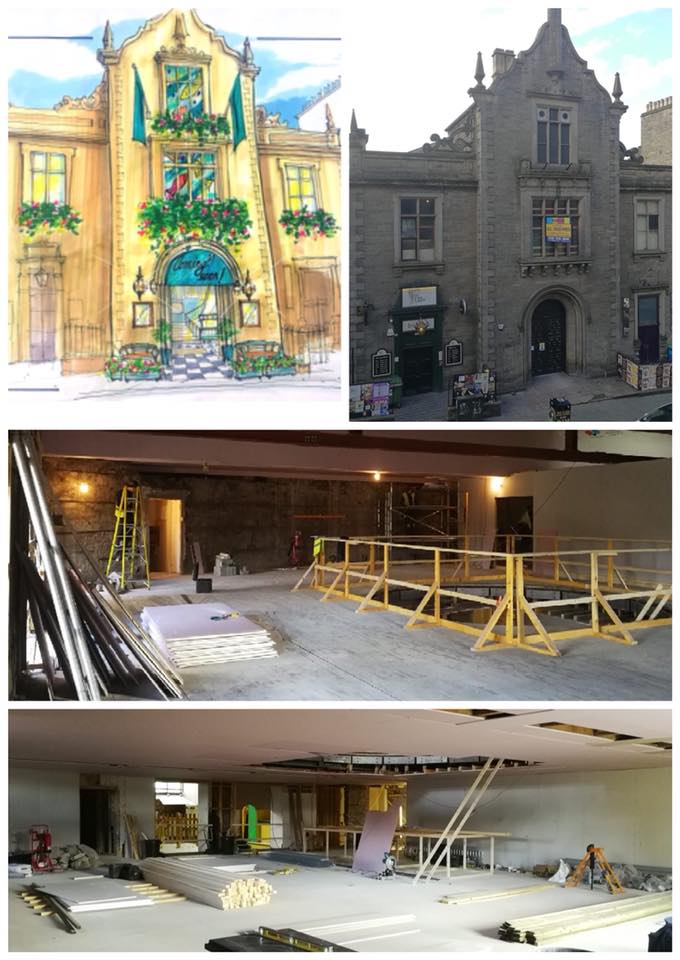 The three-floor World Heritage building will seat 270 diners offering a "contemporary" take on traditional British 'chippy' dishes.
Tony said: "We have had a vision for many years about opening 'the' fish and chip restaurant destination in the heart of Edinburgh city centre for many years. This concept will be fun, relaxed and affordable. Our focus as ever with our restaurants is fresh quality food available for all."
Pride have been appointed main contractor for this exciting project with Instock's equipment division delivering the design, supply & installation of the Kitchen & Bars.